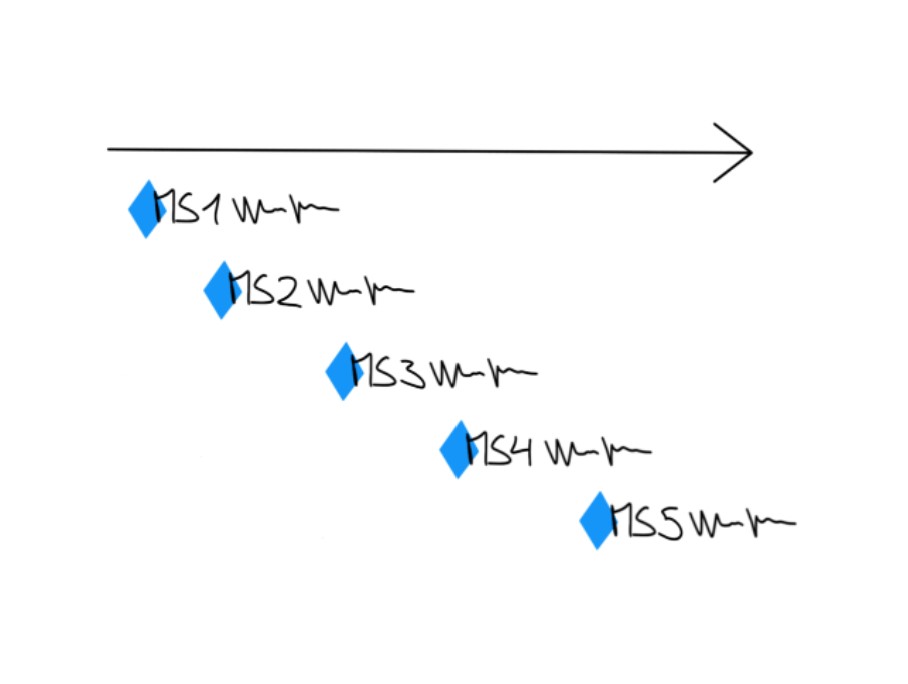 Content
What is a project phase?
What is a milestone and how do I determine them?
What is a work package?
What does a work package description look like?
For the creation of less necessary project management plans we need knowledge about different terms. Important for the time structure planning are project phases, milestones and work packages.
What is a project phase?
First of all we have to distinguish between project phases and project management phases.
The project management phases are firmly divided into 5 phases:
Initialization
Definition
Planning phase
Project controlling
Closure
Project phases, on the other hand, vary in number and naming depending on the project. They provide a framework for the overall project and divide this into planning sections.
For example, a construction project can be divided into the following phases:
Design – Planning – Preparation – House Construction – Interior Construction – Furnishing – Completion.
Whereas the phases of an event planning might look like this:
Structure Planning – Event Detail Planning – Preparation – Execution – Dismantling and Follow-up.
Each phase includes one or more milestones.
What is a milestone and how do I determine them?
A milestone in a project marks an important event, such as the completion of a core work package. There are a few points to keep in mind:
The first milestone marks the start of the project
Each phase concludes with a milestone
The last milestone marks the end of the project, i.e. the completion of the project.
It should be noted that a project has as few milestones as possible and as many as necessary.
Larger and longer projects need of course several milestones, but it should remain clear.
The exact number of milestones in a project varies depending on the duration and subdivision. They are usually determined by the project management.
What is a work package?
A work package is a subtask in a project. It can be executed by one or more persons. These are defined in the WBS.
Which activities occur in each case, who is involved and which framework it has exactly is recorded in the work package description.
It must also be defined in a flowchart in which dependency the individual packages stand to each other and which prerequisites it has in each case.
What does a work package description look like?
A work package description is a table that precisely defines the framework and content of each work package. This includes:
The work package owner
All employees involved in the package
All required resources
The earliest and latest start date, as well as end date
The planned processing period in person days
All activities to be performed
The goal and completion criteria of the package
The budget to be spent
As well as the start requirements (i.e. what conditions must be met for this package to start, this can be the completion of a previous package, the achievement of a milestone, or the start of a package that is running at the same time).